Home Page
---
A-Parrot to A-Flamingo, Inc., Parrot Rescue
Brecksville, Ohio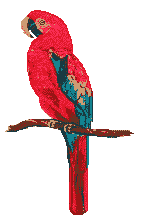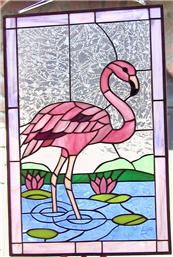 ABOUT A-PARROT TO A-FLAMINGO, INC.

Not-for-Profit Parrot Rescue Organization
Our Function is Re-Homing Parrots Needing a New Home
Mostly Older Parrots are Available for Adoption
"No Kill" Policy - Adoptions to Experienced Parrot Owners Only
Located in Northern Ohio, USA
"Our Agency Works for Birdseed"
PS: If you do not hear back from us promptly, please use ANOTHER email address to contact us from. Put our email address (aparrottoaflamingo@danworld.com) in your address book as an approved address to allow us to reply back to you. We are having trouble reaching some people trying to contact us from AOL, Windstream, and Outlook addressees.
---
OUR NONPROFIT STATUS

Yes, A-Parrot Rescue is a not-for-profit parrot rehoming organization. But we do not have 501C3 status at this time.
A-Parrot's Website: http://aparrottoaflamingoinc.zoomshare.com/ (you are here now)
Do you have questions? First, please scan the info on the tabs in the upper lefthand corner. THEN you can email Fran at
aparrottoaflamingo@danworld.com
---
WELCOME !

Thank you for checking out our parrot rescue site..
A-Parrot to A-Flamingo Rescue accepts parrots with varying personalities. And not all parrots that we get in are considered "tame". That is why we prefer to adopt out parrots out to experienced parrot owners (one who has actually lived with a parrot in their home for a while). We have qualifications for adoption consideration, and not every application may be approved.
Rescue organizations primarily take in older parrots. If you are looking for a baby bird, you really need to contact a reputable breeder or pet shop. We specialize in unwanted, older but healthy, birds needing a new home. Sometimes we may have a nice tame parrot available, but expect the bird to be at least 6 years old or older... Rehoming donations help us take in the next parrot in need of a good home. All adopters will be screened first..
Our agency will adopt parrots to multi-pet and multi-bird owners.
Adoption consideration depends on your completing our adoption process, with final approval by our Board of Directors. Our process takes longer than one just texting us. We need to get to know our potential adopters first. You must be open to our asking you questions also.
This website is very detailed. Please READ it over carefully. Most questions you have about A-Parrot to A-Flamingo Rescue are covered on this site. We honestly put our policies in WRITING on this website to eliminate misunderstandings later.
---
WE NEED ADOPTERS...

A-Parrot Rescue is excited to meet everyone who is seriously is looking to give a good home to one of our homeless parrots. We hope you will email us to continue.... One must be 21 years of age to start the adoption process. Most of the questions you may have about A-Parrot Rescue are included on the sidebar choices on the left. Please take the time to review these pages before you email us.
---
DO YOU HAVE A PARROT YOU CANNOT KEEP?

Info for one considering turning a parrot or a small bird over to us:

You have reached a safe haven for parrots needing a new home. A-Parrot to A-Flamingo's function is "rehoming" parrots in need of a new home. We will find just the right person to adopt each bird that has been left in our care. Here is info for one to consider if you choose A-Parrot to A-Flamingo Parrot Rescue to assist you:
(1) A-Parrot to A-Flamingo Rescue is not soliciting for parrots for our personal ownership. We find experienced parrot owners to rehome all birds to.
(2) We do not foster or pet sit birds. It must be your final decision to tave A-Parrot to A-Flamingo Rescue rehome your bird for you.
(3) We cannot start the "rehoming process" until birds are brought to us and signed over to us.
(4) Our organization cannot purchase your parrot.
(5) Cages with the birds are optional. But it is is better to let a parrot go with its own cage since the bird will be most comfortable with its cage and will adjust to its new home easier.
(6) At times there may be a waiting list for our taking in birds as our holding space is limited, especially for large parrots.
(7) We reserve the right to accept or turn down taking in any bird offered to us.
(8) A-Parrot Rescue would be happy to assist you in finding a good, safe home for a bird you are not able to keep any longer. Age does not make a difference. All we ask is that the bird is in perfect feather and healthy.
A-Parrot to A-Flamingo Rescue will always consider the welfare of birds turned over to our organization first, above the wants or needs of the tentative Adopter.
Please go to our page "DONATE BIRD" for more info.
---
BIRD SPECIES A-PARROT TO A-FLAMINGO DOES TAKE IN:

LARGE PARROTS -- limited, as space permits
ALL MEDIUM SIZE PARROTS-- African greys, timnehs, caiques, amazons, small cockatoos and amazons, etc.
ALL SMALL PARROTS--Conures, ringneck parrots, other parakeets species, parrotlets, red rumps, bourkes (all grass parakeets), cockatiels, budgies, finches, canaries.
*Due to our limited funding, we can only accept parrots in perfect feather and in good health.
*Parrots and other birds must be brought to us in Brecksville for rehoming.
*We do not climb trees to catch birds for you! That part of "rescue" is not our job.
FLAMINGOS? We will gladly accept "unwanted" pink plastic garden flamingos -- to add to the flock "decor" in our yard.
---
A-PARROT DOES DOES NOT TAKE IN:

NO wild or outside birds, baby birds fallen out of nests, farm birds, game birds, swans, peacocks, toucans, mynahs, lories, eclectus, doves, pigeons. But we may be able to assist you with a referral.
---
BIRD / PARROT ADOPTION BASICS

You will be "applying" to adopt a bird. Pls. read over this website. A-Parrot Rescue only adopts PARROTS out to experienced parrot owners. To be fair, everyone must follow A-Parrot's adoption process in order to be considered for adoption.
A-Parrot Rescue does not ship birds, nor do we meet you part way for drop-off. We need to meet the actual adopter before adoptions are finalized also. We do not adopt out parrots as "gifts" for adults or children. Homes are located for parrots with consideration of each individual parrot's needs. 99% of the birds that are offered to our agency will be older.
A-Parrot Rescue does not rehab parrots for you since we do not want YOUR parrot to become attached to anyone on our staff prior to it going to its new home. And we also do not want to unnecessarily stress out the birds waiting for placement here. Our Adopter needs to be a patient person willing to work with the bird they choose.
---


WHO WE ARE

A-Parrot to A-Flamingo, Inc., Parrot Rescue takes the place of The Bird Placement Program. BPP is closed as of June 2007. Our same rescue team has been (and is continuing to find) new homes for unwanted birds for well over 30 years.
A-Parrot to A-Flamingo, Inc. is also privileged to have a page listed on Petfinder.com Our current adoptable birds, pictures and bird personalities, are advertised there. Feel free to keep checking our page there for bird updates...
Our parrot rescue is run out of our private home. Appointments are necessary for drop off or after your Application has been approved. See our Webpage: "OUR HOME RESCUE" before you make an appointment to visit us.
A-Parrot to A-Flamingo Rescue also volunteers as a consultant to the Brecksville Animal Control Department for bird and parrot issues in the city.
---
OUR ADOPTION PROCESS SUMMARY:

This is info for our tentative Adopters.
(1) Potential Adopters must contact us via email first. We do not interview by text, in person, or by phone. Our info is put in writing.to avoid misunderstandings later.
(2) Our Board reserves the right to approve or refuse any application submitted to us. Applicants must be open to answering questions that A-Parrot to A-Flamingo Rescue may have.
(3) You will be coming to a private home for pick up, and you must have an approved application in our files. Our Board of Directors makes all final adoption OK's.
(4) Drop-off and pick up of birds is in Brecksville, Ohio ONLY. We will adopt out to people in Ohio, Michigan, Pennsylvania. (states very local to Ohio). Inquire... We do not ship parrots. We will need to meet the actual Adopter here in Brecksville.
(5) A-Parrot to A-Flamingo gets in older parrots for rehoming. Adopters must have the time and patience to possibly train the parrot themself. Birds are adopted out "as is", in visually healthy condition. We adopt to multi pet owners, but everyone must understand that owning a cat or a dog is NOT the same as owning a parrot.
(7) If you are OK with the above info, feel free to email our Interviewer at: aparrottoaflamingo@danworld.com (copy this address)
---
OUR MISSION



A-Parrot to A-Flamingo Rescue, as a non-profit rescue and parrot rehoming organization, is dedicated to alleviating parrot neglect and suffering, offering advice to bird owners to assist them in creating a healthy environment for their pet bird. A-Parrot's goal is to promote safe and humane care of companion parrots. Our aim is to take in and rehome unwanted older healthy parrots that would possibly be euthanized because of their age.
We provide a safe haven with top quality care for the birds/parrots released into our care prior to our locating good homes for them. We are registered as a "no kill" organization.
---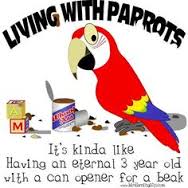 In summary, if you have never owned a parrot before, most probably you would not be able to adopt one from A-Parrot to A-Flamingo, Inc. There may be other parrot rescues you can contact. After you have lived with your first parrot you have gotten from another source for a few months and if normal parrot "quirks" do not bother you, save that receipt and feel free to contact us to adopt your SECOND parrot from A-Parrot to A-Flamingo Rescue.
A-Parrot Rescue has policies we must follow. Every bird rescue oganization has its own adoption requirements. We are all stand-alone organizations.
---

INFO AND PICTURES OF BIRDS AVAILABLE NOW

Visit our available birds on our page at Petfinder.com:
https://www.petfinder.com//pet-search?shelter_id=OH662
IMPORTANT: CLICK ON THE BIRD'S PICTURE FOR ITS INFO.
*This list is updated as soon as we can. Adoptions can occur at any time also. A-Parrot to A-Flamingo Rescue reserves the right to keep on interviewing potential Adopters until birds leave our premises. We cannot hold a bird for you if you are not ready to make your viewing appointment promptly after Application approval Your delay in emailing us, or returning the application, may cause you to lose out on the parrot you are most interested in.
---
SOME OF OUR ADOPTION CONTRACT CONDITIONS…..

More info for our tentative Adopters.....

We are looking for permanent homes for every bird that is adopted out thru A-Parrot Rescue. You must be 21 years of age or older. We do not allow breeding of any rescue bird one obtains from our agency.
Leg bands are NOT to be taken off of any bird adopted from A-Parrot to A-Flamingo Rescue. If you object to this point, contact Fran for more info in this regard.

Other Adoption Contract conditions apply. These are explained in our email "chat". Our rescue agency has the right to retrieve any bird if our Adoption Contract conditions are breached.
If one is not able to keep the parrot you have obtained from A-Parrot Rescue for any reason, you must return it to A-Parrot to re-home. Our rescues are never to show up on Craigslist. Donations/fees are not refundable.
A-Parrot to A-Flamingo Rescue is looking for permanent homes to place our birds into.
---
FREE PARROTS, CHEAP ?



A-Parrot to A-Flamingo must operate on private donations so we can continue taking in, feeding, and caring for birds until they are rehomed. Our parrot rescue organization is not a giveaway site for the public. This is a major misunderstanding when people contact a parrot "rescue" for the first time.
Responsible pet ownership is not a cheap venture! We understand that money is tight for all of us right now .... and this is especially true for anyone who runs an animal rescue organization. A rehoming donation is necessary to insure the safety of birds being adopted out also.
All pet owners must be able to afford the animals in their care. The same holds true for a parrot rescue organization. Owning a large parrot, especially a macaw, is very expensive. The expense of owning one macaw is at least fifty times that of owning a budgie.
For any animal rescue organization, multiply that expense by many, many times. Your kind understanding and support of A-Parrot to A-Flamingo's rescue efforts is greatly appreciated.
---
REFERRALS AND OUR CLIENTS



A-Parrot Rescue is privileged to receive lots of referrals from previous clients, avian vets, other bird owners who can attest to our sincerity in finding just the right home for any bird released to our care. Our clients have chosen and trusted A-Parrot to find a home for birds they can no longer care for.
---
OUR FUNDING

None. All of our personnel work on a volunteer basis. 97% of funds coming in goes direct for the care of birds waiting for homes and for future birds coming in. 3% covers our office and gasoline expenses.
To explain further, A-Parrot to A-Flamingo Rescue is on a "subfixed income", meaning we get NO subsidies or grants to run our agency. Your donation goes for us buying seed, pellets, treats to feed parrots left in our care, and necessary vet care. Every rescue organization will have some expenses, but feeding birds left in our care takes priority here. We do NO outside funding solicitations nor do we hold raffles.
Keeping the above info in mind, A-Parrot to A-Flamingo Rescue must depend on private support for drop-off of birds and for adopting a bird from our organization. Your consideration of a donation is much appreciated. Seed and pellet donations, any brands, and plain newspaper (no ads) are gratefully accepted also!
Thank you in advance! End of commercial......
---

OUR CLIENT'S PRIVACY



Your privacy is important to us. All info that we request of you stays in A-Parrot's files and is only used for placing birds in our care. A-Parrot to A-Flamingo, Inc., Parrot Rescue does not give out our bird friends' info. to any marketer, website, advertiser, company, Adopter, previous bird owner, etc. This privacy policy pertains to our wonderful Clients, Adopters, Volunteers, and Staff.
---
OUR ADDRESS:

A-Parrot to A-Flamingo, Inc. Parrot Rescue
PO Box 41414
Brecksville, Ohio 44141-0414
Attention: Fran Filak, Director
Phone Number: Available upon request, email us first. Email: aparrottoaflamingo@danworld.com
How to Find Us: In northern Ohio, between Cleveland and Akron. We are in Cuyahoga County. Close to the Turnpike (Richfield/Brecksville Exit) and close to I-77
---
Why must we list a PO Box? A-Parrot to A-Flamingo Rescue cannot have birds or any other animal dropped off anonymously without our first knowing about it. (believe it or not, this has happened to us before). We will gladly supply our address info to verified clients. 
7/31/17
THANKS FOR CHECKING OUT OUR PARROT RESCUE ORGANIZATION!
---
**READ**
Disclaimer: A-Parrot to A-Flamingo, Inc., Parrot Rescue is a stand-alone, No Kill, non-profit parrot rehoming agency based in Brecksville, Ohio. We are not affiliated with any other parrot rescue organization, company, pet organization, city department, bird club, organization, etc. If you have any questions about A-Parrot's policies or adoption process, please contact Fran Filak, Director, A-Parrot to A-Flamingo at: aparrottoaflamingo@danworld.com Our policies are subject to change without notice at any time.
Copyright 2017. All rights reserved. A-Parrot to A-Flamingo, Inc, Parrot Rescue
The content and wording contained in this Website is for A-Parrot to A-Flamingo, Inc.'s use only.
---
---
< - - - - - - - - - - - - -
NEXT: To continue, SCROLL UP to the sidebar in the upper left hand corner of this page. CLI CK on the upper tabs to continue.
-- HOME PAGE -- (you are here now)